Recipes
Skewered Pepper Meatballs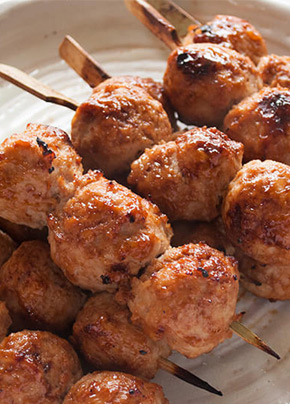 • Printer Friendly Version
- Serves: 4
- Gluten Free: Yes
- Keto Friendly: No
Ingrediants:
• 2lbs 93% lean ground beef
• 2 cups Stubb's Legendary Bar-B-Q Sauce - Original Flavor
• 1 Green and Red Bell Pepper, diced into small pieces
• 1 White Onion, diced
• 1 tablespoon Sesame Seeds
• 1 package medium bamboo meat skewers
• 3 Large Eggs
• 1 tablespoon Garlic Salt (Meat Seasoning)
Instructions
1: Preheat oven to 375 degrees.
2: Dice the bell peppers and onions into small pieces, then place in a large mixing bowl.
3: Add the ground beef, eggs and 1 tablespoon of garlic salt. Using your hands, squeeze, smush and mash until the ingredients are well distributed and evenly mixed.
4: Take a large cooking sheet and cover the top with tinfoil. (This helps with clean-up).
5: Roll the mixture into a balls slightly larger than a golf ball, and place on the cooking sheet in groups of 4 packed closely together in a straight line. Leave about 2-3 inches separating each cluster of meatballs.
6: Stab each grouping of 4 meatballs with a bamboo skewer and pack them firmly together. Try to keep the skewer evenly in the middle of the meatballs to avoid crumbling.
7: Using a sauce brush, liberally coat the meatballs with Stubb's Original Flavor BBQ sauce. Pour any excess sauce over the tops of the meatball skewers and allow it to drizzle down. Sprinkle Sesame Seeds modestly along the top of the meatballs.
8: Place on the top shelf of the oven for about 35-40 minutes and cook until the meatballs are 160 degrees internally.