Recipes
Silver's S-Rank Mac & Cheese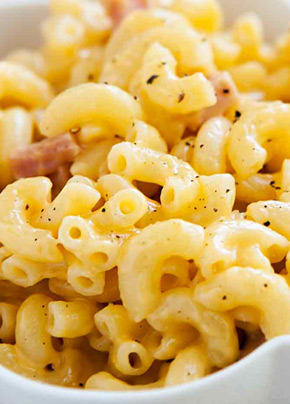 • Printer Friendly Version
- Serves: 4
- Gluten Free: No
- Keto Friendly: No
Ingrediants:
• 1 16oz box of Barilla Mini Wheels Pasta
• 12 slices of Kraft American Cheese
• 1 and 1/2 cups of whole milk
• 1 tablespoon of Iodized Salt
• 1 tablespoon of Parmesan Cheese
• 1 teaspoon of Black Pepper
• 1 teaspoon Dried Parsley Flakes
• 1/2 Stick of Butter
• 8oz of Diced Ham
Instructions
1: Pour the pasta into a large saucepan and fill with water until they are fully submersed. Heat the water to a boil, testing the pasta occasionally. When the pasta is firm and chewy, drain in a colander.
2: Cut 12 slices of American Cheese into small dices and break apart until it is a pile.
3: Place 1/2 stick of butter into the saucepan you boiled the noodles in and place it on the stove on medium heat until it melts.
4: Add the pasta, 1 and 1/2 cups of milk, 1 tablespoon of salt and the diced cheese, stirring until they are well mixed.
5: Over the next 3-5 minutes, stir as the cheese melts. Be gentle to avoid crumbling the pasta.
6: Once the cheese has become creamy and easy to stir, mix 8oz of diced ham and stir until they are well mixed. Serve hot with a light sprinkling of parmesan cheese, parsley flakes and black pepper on top.