Recipes
Silver's Pigs in a Blanket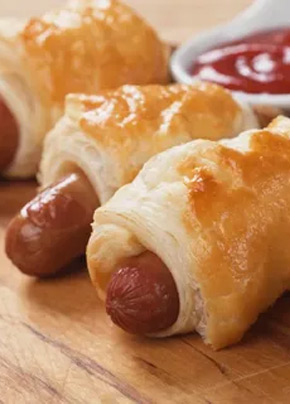 • Printer Friendly Version
- Serves: 3
- Gluten Free: No
- Keto Friendly: No
Ingrediants:
• 1 12oz package of Johnsonville Smoked Beef Brats
• 1 8oz roll of Pillsbury Original Crescent Rolls
• Pam Olive Oil Cooking Spray - 5oz
Instructions
1: Preheat the oven to 375.
2: Open and drain the brats and place on a plate.
3: Open the crescent rolls by peeling along the guide and then striking the tube on the counter. Unroll the dough and tear at the serrations until you have 8 wedges.
4: Spray your cooking sheet with a light coating of cooking spray.
5: Place a brat at the base of a dough wedge, (the long edge), and roll until the brat is well wrapped. (The edges will be sticking out). Place on your cooking sheet. Repeat this step until you have 6 pigs in a blanket. There should be about 2 inches in between each pig.
6: Roll the remaining dough into proper croissants and place on the cooking sheet as well.
7: Back for 12-14 minutes, or until golden brown. Let cool for 5 minutes and serve.