Recipes
Silver's Picante Sauce & Chips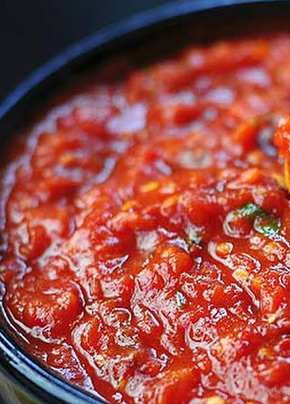 • Printer Friendly Version
- Serves: 4
- Gluten Free: Yes
- Keto Friendly: No
Ingrediants:
• 1 15oz can of Red Gold Tomato Sauce
• 1 10oz can of Ro*Tel Diced Tomatoes & Green Chilies
• 1/2 White Onion, minced
• 1/4th cup water
• 1 tablespoon Garlic Salt
• 1 tablespoon Onion Salt
• 2 tablespoons Crushed Red Peppers
• 1 teaspoon Iodized Salt
• 1/2 teaspoon Carolina Reaper Pepper Flakes
• 1 Large Bag of Blue Corn Chips
Instructions
1: Finely mince the onions into fine pieces and dump into a a medium mixing bowl.
2: Open and then pour the cans of diced tomatoes and tomato sauce into the bowl with the minced onions.
3: Add 1 tablespoon of garlic salt, 1 tablespoon onion salt, 2 tablespoons of crushed red peppers, 1 teaspoon of salt and 1/2 teaspoon of reaper pepper flakes to the mixture. Pour 1/4th cup of water into the bowl as well.
4: Mix very well with a large spoon, being sure to evenly distribute the contents.
5: Cover the bowl and let chill in the refrigerator for an hour. Serve with blue corn chips.