Recipes
Silver's Pad-Tai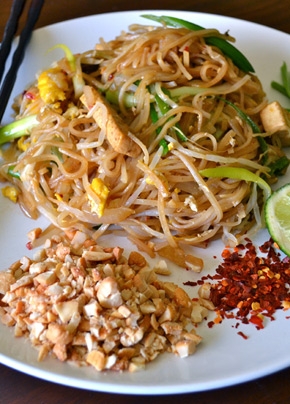 • Printer Friendly Version
- Serves: 4
- Gluten Free: Yes
- Keto Friendly: No
Ingrediants:
• 1 Egg per person
• 6 ounces of Chicken, Tofu, Pork, Pre-cooked Shrimp or Beef per person
• 12 ounces of Rice Noodles per person
• 1/4 cup Soybean sprouts per person
• 1/4 cup Chopped peanuts per person
• 1/4 cup Pad-Tai sauce per person
• 1 tablespoon Garlic Salt (Meat Seasoning)
• 1 teaspoon Onion Salt or Powder (Meat Seasoning)
• 1 teaspoon of Dried Parsley flakes (Meat Seasoning)
• Fresh Cilantro flakes - to taste
Instructions
1: Cook or soak rice noodles until they become pliant yet remain slightly firm. Drain water and let sit. (They will finish cooking in the pan).
2: For chicken, pork or beef, slice the meat into thin cuts, and lightly dust it with garlic salt, onion salt/powder and parsley flakes. Cook until slightly Seared. Shrimp are ready as is. Tofu should be cut into small cubes and fried until firm and seared on all sides.
3: Scramble the eggs - do no crumble into overly small pieces.
4: Add sauce, bean sprouts, meat, eggs and noodles into a wok and then stir-fry until the noodles are tender and the sprouts are fully cooked. Be gentle and use the pan to maneuver the food as much as possible to keep the noodles and eggs intact.
5: Serve and garnish the Pad-Thai with chopped peanuts and flakes of fresh cilantro to taste.
Pad-Tai Sauce Instructions:
• 1/4 cup Chicken Stock
• 1 tablespoon Soy Sauce
• 3 tablespoons Fish Sauce
• 1/2 to 1 teaspoon Chile Sauce, or to taste
• 3 to 4 tablespoons Brown Sugar
• 1 to 1 1/2 tablespoons Tamarind Paste, or to taste
• 1/8 teaspoon ground White Pepper