Recipes
Silver's Egg Muffins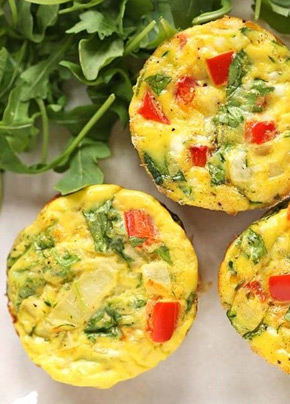 • Printer Friendly Version
- Serves: 4
- Gluten Free: Yes
- Keto Friendly: Yes
Ingrediants:
• 1 Red Bell Pepper, diced
• 1/2 Yellow Onion, diced
• 14 Large Eggs
• 1 cup of shredded Colby Jack Cheese
• 1 teaspoon Black Pepper
• 1 cup Diced Ham Cubes
• 12 silicone cupcake liners
Instructions
1: Preheat the oven to 350 degrees.
2: Crack 14 eggs into a medium mixing bowl and whisk until the yokes and whites are evenly mixed.
3: Pour the shredded Colby-Jack cheese into the bowl and mix well with the eggs.
4: Dice the bell pepper and onion half into small cubes and dump into the mixing bowl.
5: Add the ham cubes and 1 teaspoon black pepper to the bowl then stir well.
6: Place a silicone cupcake liner in each slot of a standard 12 slot muffin pan. The liners are reusable, and this makes clean-up vastly easier.
7: Pour about 1/4th cup of your mixture into the cupcake liner. (Fill close to the top, without overflowing).
8: Place on the top rack of the oven for 20-25 minutes, or until they rise and are no longer liquid.
9: Remove the muffin tins from the oven and allow to cool for 5-10 minutes. The egg muffins will settle some, this is normal. Peel off the silicone cupcake liners and serve.