Recipes
Silver's Chicken Noodle Soup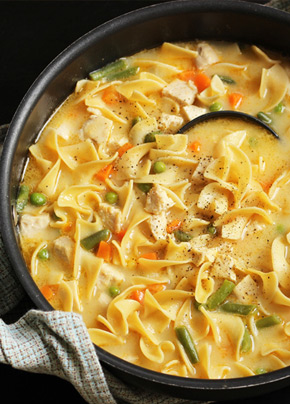 • Printer Friendly Version
- Serves: 6
- Gluten Free: Np
- Keto Friendly: Yes
Ingrediants:
• 2 32ox Cartons of Swanson Chicken Broth
• 2 10oz of Chunk Chicken Breast in Water
• 1/2 package of Hy-Vee Select Extra Wide Homemade Egg Noodles
• 2 Carrots
• 3 Stalks of Celery
• 1 tablespoon of Iodized Salt
• 1 tablespoon of Garlic Salt
• 1 tablespoon of Onion Powder
• 1 teaspoon of Black Pepper
• 2 tablespoons of Dried Parsley Flakes
• 1 tablespoon Extra Virgin Olive Oil
Instructions
1: Pour the chicken broth into a large slow-cooker. Add 1 tablespoon of Iodized salt, garlic salt, onion powder and 1 teaspoon of black pepper. Then add 2 tablespoons of dried parsley flakes and stir well.
2: Open the chunk chicken breast and break up some of the larger piece of chicken with a knife. Pour the entire contents of the cans into the slow-cooker.
3: Peel the carrots and cut them into half-inch rounds. Slice the celery into 1/2 inch pieces. Dump the vegetables into the slow cooker. Stir gently to mix - avoid breaking up the chicken chunks too much.
4: Cover and place on low heat for 6-8 hours.
5: 20 minutes before serving, boil 1/2 package of extra wide homestyle egg noodles in a medium saucepan with 1 tablespoon of extra virgin olive oil. When the noodles become firm, drain into a colander.
6: Fill large soup-bowls 1/3 full of noodles, then the rest of the way with soup using a ladle. After everyone has a serving, dump the excess noodles into the slow cooker.