Politics & Rants
CNNNPC BREAKING NEWS!!!!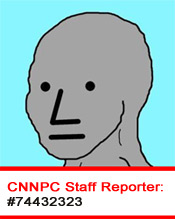 This just in! Our brave roving reporters on the ground have just discovered a website full of dastardly alt-right terrorists.... and right now... as we speak... these villains are of mass-producing explosive devices - just like the ones delivered to our offices - and those of many other courageous government NPC's over the last several days!!!!
Witness these devastating terror weapons in the early stages of construction as these rabid supporters of the Donald Trump personality cult prepare to make good on their threats of violence!!!!
But before we share these SHOCKING images, we'd like to take a moment to remind out viewers of the Democrats Republicans who, in recent weeks, have whipped their voters into a blood-thirsty frenzy of violent protests and wanton destruction:
"...you get out and you create a crowd and you push back on them, and you tell them they're not welcome anymore, anywhere..."
- Maxine Waters Ted Cruz
"You cannot be civil with a political party that wants to destroy what you stand for"
- Hillary Clinton Donald Trump
"...fight in Congress, fight in the courts, fight in the streets, fight online, fight at the ballot box..."
- Tim Kain Mike Pence
...march, bleed, and die in the streets!!!
- Loretta Lynch Jeff Sessions
When Republicans Democrats Go Low, 'We Kick Them!
- Eric Holder Jeff Sessions
WAKE UP & JOIN THE RESISTANCE. ONCE THE MILITARY IS W US FASCISTS GET OVERTHROWN. MAD KING & HIS HANDLERS GO BYE BYE
- Sarah Silverman Larry The Cable Guy
"Ayo Donald Trump Hillary Clinton shut your punk ass up talking sh-t about my uncle Snoop Dogg before we pimp your wife daughter and make her work for us,"
- Little Bow Wow Kanye West
!!!IMPORTANT!!!
We need to take a moment to warn our viewers, as the following images are quite intense - they might frighten or cause those with weak constitutions suffer fainting spells. We have therapeutic coddling puppies, play-doh stress management tables, cry-in rooms, self-care-coloring-books and grief counselors on standby for those who might be triggered by these unsettling images!!!
NOTE: (For those of you who don't speak English as a first language, or who identify as one of the 8,393 approved genders, we have well trained staffers ready to translate or address you by your preferred gender pro-noun!)
Without further build up, here is a link to these deplorable bomb-makers as they construct their weapons of mass destruction:
• Ultra-Right-Wing-Fundamentalist-Christian-Terror Propoganda Site:
This is just shocking Ladies, Gentlemen, Xirs and Otherkin! Who would have thought that, so close to the election, a mob of right-wing radicals would mobilize to plunge the nation beneath a tsunami of horror and destruction. Wait... THIS JUST IN: We now have it on good authority that 1024th of a shipment of Pox Infected Blankets made their way to Elizabeth Warren's office early this morning! (No photos sadly, as the blankets were quite small - but despite their minuscule proportions, the harrowing event was no less terrifying for the brave Native American Squaw and her courageous staffers!).
Below are some frightful new photos of these improvised explosive devices created to drag our nation into an era of danger and darkness on the eve of the midterms:

Certainly a Bomb

Definately a Bomb

Absolutely A Bomb

Unquestionably A Bomb

Indubitably A Bomb

Categorically A bomb

Doubtlessly A bomb

Truely A Bomb

Unconditionally A Bomb

Conclusively A Bomb

Decidedly A Bomb

Surely A Bomb

With Certitude A Bomb

Qualifiably A Bomb

Obvious Bomb

This is Also A Bomb

You Know the Drill...

Yup... Bomb...

...Same Here...

Boom!

You Guessed It...
Bomb...

Don't Forget This Bomb

Last But Not Least... Bomb....

Damn... we ran out
of synonyms
for "Exactly..."
...and pictures
of bombs...
Closing Thoughts
Unbelievable! We're at a loss for words Hym's, Hyrs, Xims and Xirs. We'd ask Anderson Cooper for a statement, but he's currently aiding crime scene investigators by thoroughly wiping down the most recent IED with Clorox Disinfectant Wipes to destroy any traces of evidence help sanitize the contents so none of the inept sh*t-heels courageous and extremely competent agents of the F.B.I. contract a bacterial infection.
Good night and be safe in this, our darkest hour America! And don't forget to vote early and vote often! Our website has free ballots in multiple states for those of you feeling so patriotic that just one vote isn't enough - or in the event you're deceased (Two-for-one corpse-registration limited to Chicago Residents).
NOTE: (Spanish Language versions available).